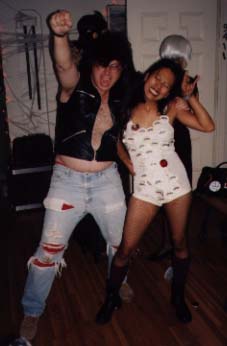 Here I am on Halloween `98 with my friend Maricris Richard at a party in Los Angeles. The band I'm in,

Blue Dot, played two sets and people seemed to enjoy the show despite some minor technical problems with the PA. As you may be able to tell from the picture, I'm wearing a wig, although the bulging gut is all mine. I'm not really sure what Mary Chris was thinking when she put her costume together...note the Smucker's Jam packets stuck to her evening ware, but no one seemed to mind too much.
Here I am at Club Med at Sonora Bay, Mexico, on the inland coast of the Sea Of Cortez. The trip was a kind gift from

Aileen Hoffer of Crystal Blue Vacations. Despite the fact that the package was a Jewish Singles Weekend, I had a reasonably good time laying under a palapa and reading Balzac. I actually met a woman on the trip, but after 6 months of e-mails, phone calls and two trips to Toronto, it wound up not working out. Still, all in all, Mexico was a very nice escape from the drudgery of Long Beach.