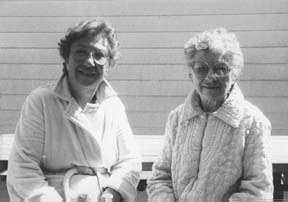 Here's a picture I took a few years ago. On the left is my mother, Bebe, who passed away unexpectedly in June of '97. Next to her is her sister, Sylvia Aronson, the last of 4 sisters of the Bender clan. Sylvia lives in New Jersey and is still very active, sharp-witted and very dear. Linore, her daughter, lives with her husband Derek in Manhattan, where she is a long-time member of the Met Opera Chorus. Ted, Sylvia's son, is a Cantor, teacher and councilor and lives with his wife, Sonia, and their musically talented son, Noah. Their daughter, Danit, just started college last year.
Their brother, Coleman Bender, lives with his wife, Evelyn, in Hawaii, where he continues to teach at the U of H. When he's not teaching, he runs seminars for doctors.
My mother was a real go-getter, and very progressive in her day. Her friends told me that, as a young single woman in Manhattan, she always dressed to the nines and loved to go dancing at local clubs. She met my father at a gathering of artists who'd hire a model and do sketches. My parents both traveled in Bohemian circles, I suspect. She was very interested in health and nutrition, and this led to many experiments in the kitchen. Although she wasn't thrilled about moving to California, we all came to Santa Monica in '68. She was a great parent. Fortunately, as an adult, I had the opportunity to get to know her as a friend and those are my most treasured memories. Here she is in 1954, somewhere in Nantucket.